BLUE GIANT – Vertical Dock Leveler
The Blue Giant vertical storing dock leveler is the perfect solution for facilities that must maintain strict temperature control. Stored in the vertical position inside the building, overhead doors close completely to the pit floor, preventing energy loss, debris entry and improved security while maintaining a clean, energy efficient environment.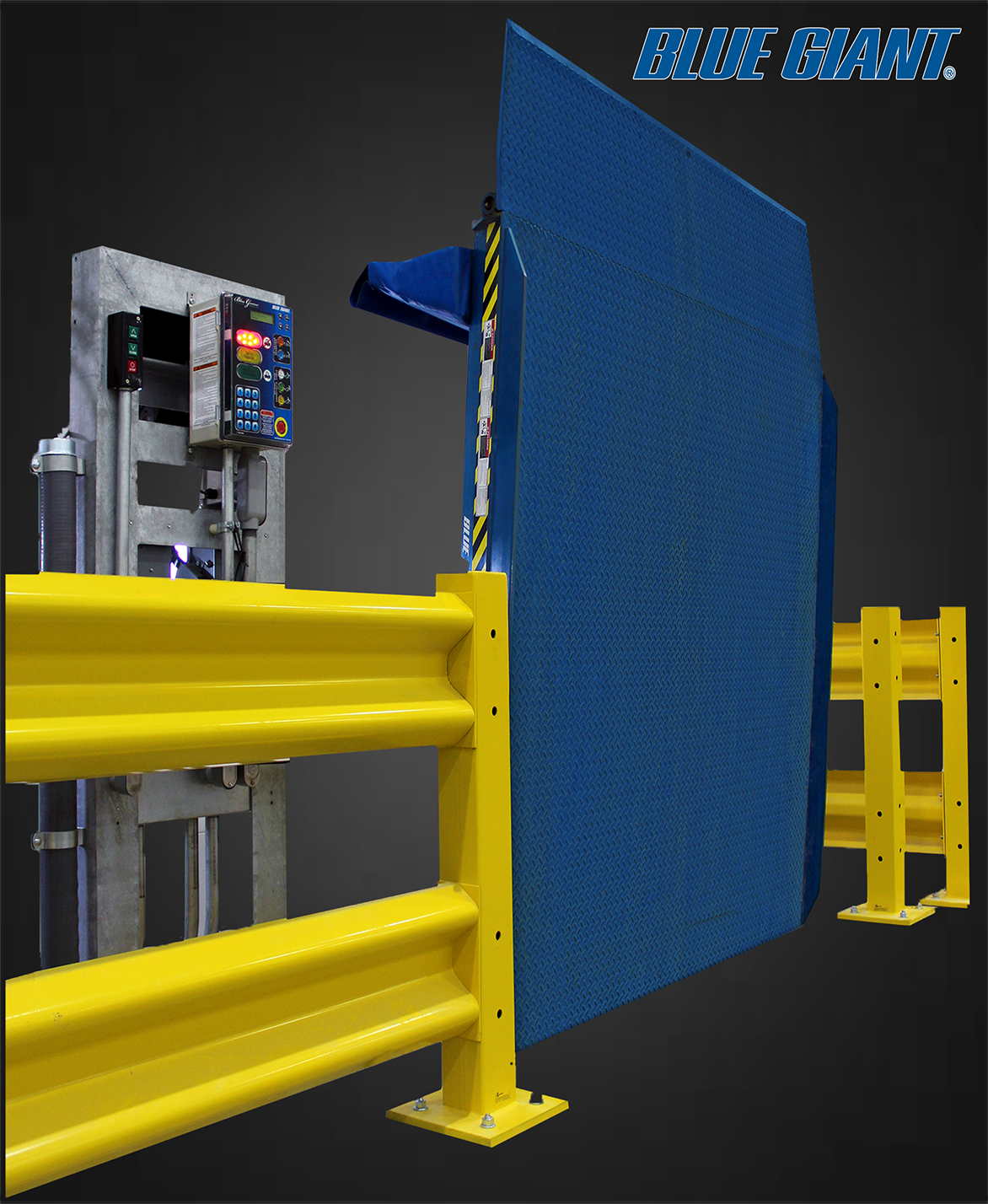 APPLICATION BENEFITS
COLD STORAGE
Maintain cold chain integrity during the loading and unloading process.
Avoid exposure to the outside atmosphere while preserving climate control inside the facility.
Eliminate internal temperature fluctuations.
Ensure product quality from the arrival of raw materials to the shipping of finished goods.
CONTAMINANTS and CLEANLINESS
Overhead doors remain closed and tightly sealed maintaining environmental control.
Leave pests and debris outside.
Easily wash down and sanitize the pit floor to ensure the highest level of cleanliness.
Powder coat finish will not rust or corrode, keeping facility cleaner, longer.
  PRODUCT HIGHLIGHTS
EasyClean™ provides a streamlined frame layout with minimal obstructions, allowing for easier cleaning and maintenance.
IntelliTilt™ feature a precision-based inclinometer to protect and communicate deck position.
SmartFloat™ State-of-the-art sensor technology allows the lip to maintain constant contact with the truck bed.
SoftPark™ offers enhanced protective cushioning which safeguards the deck cylinder while the deck is being parked, minimizing wear and tear to facility floor.
Platform flexes up to 4″ (102mm) under load, maintaining full-width contact between the lip and the truck bed.
Inverted deck cylinder self-bleeds continually, reducing internal corrosion and increasing velocity fuse efficiency.
Hydraulic velocity fuse limits loaded platform free-fall.
1HP (TENV) power pack with separate manifold system for product longevity and serviceability.
3″ (76mm) high visibility run-off guards keep forklifts properly positioned, with wider access to the trailer entry.
Controlled by the Blue Genius™ Gold Series I Touch Control Panel.
Constant pressure touch button allows the dock attendant to safely control the deck at all times.
Product Documents